TRAINING AND PERFORMANCE CONSULTING
Quality Training Systems (QTS) has provided training and performance support services for high-performance companies since 1997. We provide a variety of training and employee development courses to improve skill sets, integrate HPI tools and best practices, as well as instruction on how to use the Quality Training Database (QTD) to implement SAT an ADDIE-based instructional design abilities. In addition to our course catalog, we provide custom training or coaching with an emphasis on training your employees and help provide training solutions critical to your organizations success.
Contact us today at sales@qualitytrainingsystems.com or call 443-755-0790 ext. 119 to learn more about how our consulting services can help you improve your training program!
Consulting
No matter how large or small your organization, or what is preventing you from developing the high-performing workforce you desire, QTS will provide the expert advice and quality results you need to get it right. Along with our unwavering commitment to quality, we bring our deep knowledge of instructional systems (the SAT process), expertise in eliciting, interpreting, organizing, and clearly reporting large amounts of job task-related data, and strong project management to bear on each client's unique circumstances.
Do you find it difficult to create quality training for technical disciplines? Our consultants are highly skilled at working with subject matter experts to capture their technical knowledge and turn it into quality training content that meets clients' specific and unique needs. And, with nearly 100 years of combined technical training experience, you may be surprised at how quickly we will be "speaking your language."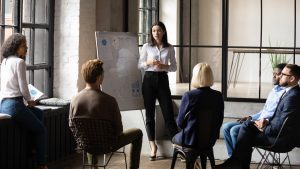 Has your company leadership asked you…
How do you know your training is adding value to the operation?
Does your training enhance employee performance on the job?
Are we maximizing our human capital?
Does the work your trainers do improve safety results?
Do you have line-of-sight between the training you're providing and what actually happens in the field, out on the floor, or in the office?
QTS core business is optimizing the performance of our clients' workforces, and we'll provide the expert advice and quality results you need to answer these questions with positive results.